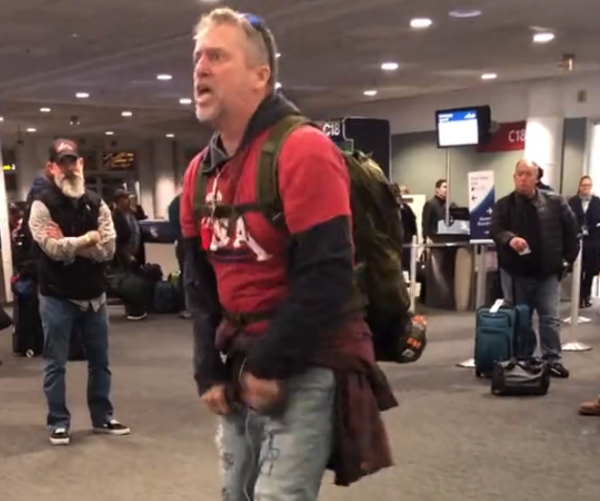 Have you noticed that people seem to be a lot more prone to losing their temper these days?  In a civilized society, those that disagree are supposed to resolve their differences in a calm, rational manner.  But now we live in a world where people fly into a rage at the slightest provocation.  Without a doubt, the last several years have been rough on everyone, and I have never seen as much anger and frustration as I am witnessing right now.  So what will our society look like if conditions continue to deteriorate and people just keep getting even angrier and even more frustrated?
Let me share some examples that will demonstrate precisely what I am talking about.  The following are 10 shocking public freakouts that will have you shaking your head…
#1 I don't know exactly what is going on here, but I love the part where he smashes his own sunglasses…
Nothing screams airport freak out like Eminem's 2010 smash hit "Not Afraid"

— Barstool Sports (@barstoolsports) March 1, 2023
#2 This is not a video game. This is actually how people drive in real life…
GTA 6 looks amazing pic.twitter.com/6vASAXKwYc

— vids that go hard (@vidsthatgohard) February 28, 2023
#3 This is what can happen when you use "the wrong pronoun" in America today…
Someone got misgendered in the room and all hell broke loose pic.twitter.com/nAocDH5NDe

— End Wokeness (@EndWokeness) February 28, 2023
#4 Randi Weingarten is quite upset that the Supreme Court might overturn the student loan debt forgiveness program…
Randi Weingarten — union cartel boss and Democrats' biggest campaign donor — melts down on the steps of the Supreme Court pic.twitter.com/9RTbxVxQEL

— Jake Schneider (@jacobkschneider) February 28, 2023
#5 Apparently he is quite determined to keep conservatives away from his library…
Librarian refers to Conservatives who don't want porn and LGBTQ+ propaganda in libraries as "pests" pic.twitter.com/A0Cjs2M9j2

— Libs of TikTok (@libsoftiktok) February 10, 2023
#6 Why would you film yourself doing this?…
— Clown World (@ClownWorld_) March 1, 2023
#7 This is what happened when a crazy woman was confronted for cutting in line…
Customer cuts in line and is called out for it, and has MAJOR freak out! Tell me who you voted for, without telling me!! #snowflake #liberal #democrat #FreakOut pic.twitter.com/1X883hKkQ6

— YouDontHaveToWatch (@StarsAndBars123) September 25, 2022
#8 Pete Buttigieg's team really did not like being asked questions about why it took him so long to finally get to East Palestine…
WATCH: Sec. Pete Buttigieg's team FREAKS OUT when asked why it took him almost 3 weeks to come and speak to residents of East Palestine. His press secretary BEGS reporter to turn off the cameras.

Source: Savanah Hernandez @ Frontlines Show pic.twitter.com/IKatLEunbs

— Maine Republican Patriot Cory Reynolds (@RepublicanCoryR) February 24, 2023
#9 She didn't take it very well when she learned that Roe v. Wade had been overturned…
Another raging screaming liberal.
Because they think a temper tantrum will change things. #thewokeleft #abortion #radicalleftagenda #adultchildren pic.twitter.com/prHereSrjY

— Dumb Libtards (@_dumblibtards) November 11, 2022
#10 Do you remember when words still actually meant something?…
Trans looses it when this guy states that he would have to be gay to have sex with a "trans woman" because they are a biological man. pic.twitter.com/vfmGJ8MZ3u

— Will (@notBilly) February 22, 2023
***It is finally here! Michael's new book entitled "End Times" is now available in paperback and for the Kindle on Amazon.***
About the Author: My name is Michael and my brand new book entitled "End Times" is now available on Amazon.com.  In addition to my new book I have written six other books that are available on Amazon.com including "7 Year Apocalypse", "Lost Prophecies Of The Future Of America", "The Beginning Of The End", and "Living A Life That Really Matters". (#CommissionsEarned)  When you purchase any of these books you help to support the work that I am doing, and one way that you can really help is by sending copies as gifts to family and friends.  Time is short, and I need help getting these warnings into the hands of as many people as possible.  I have published thousands of articles on The Economic Collapse Blog, End Of The American Dream and The Most Important News, and the articles that I publish on those sites are republished on dozens of other prominent websites all over the globe.  I always freely and happily allow others to republish my articles on their own websites, but I also ask that they include this "About the Author" section with each article.  The material contained in this article is for general information purposes only, and readers should consult licensed professionals before making any legal, business, financial or health decisions.  I encourage you to follow me on social media on Facebook and Twitter, and any way that you can share these articles with others is definitely a great help.  These are such troubled times, and people need hope.  John 3:16 tells us about the hope that God has given us through Jesus Christ: "For God so loved the world, that he gave his only begotten Son, that whosoever believeth in him should not perish, but have everlasting life."  If you have not already done so, I strongly urge you to invite Jesus Christ to be your Lord and Savior today.
The post 10 Shocking Public Freakouts That Will Have You Shaking Your Head appeared first on End Of The American Dream.