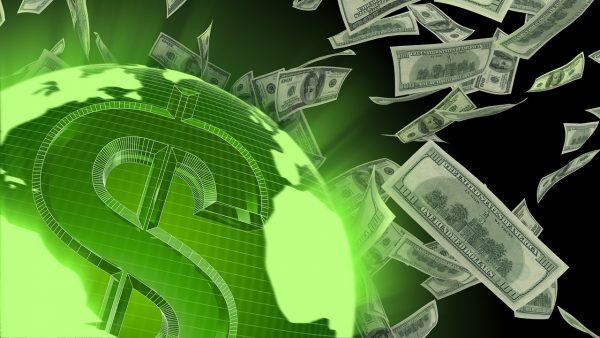 Did you think that the Federal Reserve was just going to stand by and watch the U.S. banking system completely collapse?  In response to the stunning failures of Silicon Valley Bank and Signature Bank, the Federal Reserve announced a rescue plan on Sunday evening that is going to radically change banking in America forever.  All deposits at Silicon Valley Bank and Signature Bank will be fully guaranteed and will be available on Monday.  Of course the Federal Reserve can't just make an exception for these two banks.  If they are going to do this for them, that means that they are going to have to do it for everyone else too.  So what this means is that from this point forward the Federal Reserve is essentially promising to guarantee every bank account in America.  Considering the fact that more than 19 trillion dollars is deposited with U.S. banks, that is quite a promise to make.
I want to show you that I am not exaggerating one bit.  The following is the announcement about this new plan that was just posted on the official website of the Federal Reserve…
To support American businesses and households, the Federal Reserve Board on Sunday announced it will make available additional funding to eligible depository institutions to help assure banks have the ability to meet the needs of all their depositors. This action will bolster the capacity of the banking system to safeguard deposits and ensure the ongoing provision of money and credit to the economy.

The Federal Reserve is prepared to address any liquidity pressures that may arise.

The additional funding will be made available through the creation of a new Bank Term Funding Program (BTFP), offering loans of up to one year in length to banks, savings associations, credit unions, and other eligible depository institutions pledging U.S. Treasuries, agency debt and mortgage-backed securities, and other qualifying assets as collateral. These assets will be valued at par. The BTFP will be an additional source of liquidity against high-quality securities, eliminating an institution's need to quickly sell those securities in times of stress.

With approval of the Treasury Secretary, the Department of the Treasury will make available up to $25 billion from the Exchange Stabilization Fund as a backstop for the BTFP. The Federal Reserve does not anticipate that it will be necessary to draw on these backstop funds.

After receiving a recommendation from the boards of the Federal Deposit Insurance Corporation (FDIC) and the Federal Reserve, Treasury Secretary Yellen, after consultation with the President, approved actions to enable the FDIC to complete its resolutions of Silicon Valley Bank and Signature Bank in a manner that fully protects all depositors, both insured and uninsured. These actions will reduce stress across the financial system, support financial stability and minimize any impact on businesses, households, taxpayers, and the broader economy.

The Board is carefully monitoring developments in financial markets. The capital and liquidity positions of the U.S. banking system are strong and the U.S. financial system is resilient.

Depository institutions may obtain liquidity against a wide range of collateral through the discount window, which remains open and available. In addition, the discount window will apply the same margins used for the securities eligible for the BTFP, further increasing lendable value at the window.

The Board is closely monitoring conditions across the financial system and is prepared to use its full range of tools to support households and businesses, and will take additional steps as appropriate.
Please don't just skim those paragraphs.
Take the time to read them in detail, because what the Fed just did literally changes everything.
From now on, nobody will have to worry that their bank will fail, and the Fed has decided to completely end the war against inflation.
If the technical language confuses you, here is Zero Hedge's translation…
Translation: the Fed's hiking cycle is dead and buried, and here comes the next round of massive liquidity injections. It also means that the Fed, Treasury and FDIC have just experienced the most devastating humiliation in recent history – just 4 days ago Powell was telling Congress he could hike 50bps and here we are now using taxpayer funds to bail out banks that have collapsed because they couldn't even handle 4.75% and somehow the Fed has no idea!
That analysis is right on the money.
I warned that our system could not handle higher interest rates, and higher rates were directly related to the collapse of Silicon Valley Bank.
So there won't be any more rate hikes.
In fact, I wouldn't be surprised at all if the Fed started cutting rates very soon.
In addition, all of the fresh money that the Fed will be injecting into the financial system now will be highly inflationary.
We are being told that the Fed's plan won't cost taxpayers a dime, but the truth is that inflation is a tax on all of us.
So the financial community may be praising this "extraordinary intervention" by the Fed, but there will inevitably be a very high price to pay for spraying money around so recklessly.
The extraordinary intervention: pic.twitter.com/O5V1H6Kfiw

— Travoltage (@Travoltage1) March 12, 2023
But what other choice did the Fed have?
As I have repeatedly warned my readers, our fundamentally flawed system simply cannot survive without artificial support.
And as Bill Ackman has noted, if the Fed had just stood by and done nothing we would have been facing a nightmare scenario as early as next week…
The gov't has about 48 hours to fix a-soon-to-be-irreversible mistake. By allowing @SVB_Financial to fail without protecting all depositors, the world has woken up to what an uninsured deposit is — an unsecured illiquid claim on a failed bank. Absent @jpmorgan @citi or… https://t.co/SqdkFK7Fld

— Bill Ackman (@BillAckman) March 11, 2023
Over the past several days, we really did come to the brink of the abyss.
But now the Federal Reserve has come charging to the rescue and so everything is okay, right?
I wish that was actually true.
As a result of the Fed's reckless rate hiking strategy, U.S. banks are now sitting on 620 billion dollars of unrealized losses.
That is "billion" with a "b", and that is a ticking time bomb that is not going to go away any time soon.
Meanwhile, the housing bubble is imploding, we are heading into the worst commercial real estate crisis in all of U.S. history, and now faith in the U.S. banking system has been greatly shaken.
This crisis is not even close to over.
And every time there is a new eruption somewhere, the Fed will try to put the flames out with generous injections of fresh liquidity.
Virtually everyone applauds when the Fed starts spraying money around, but by now all of us should realize that this story is not going to have a happy ending.
***It is finally here! Michael's new book entitled "End Times" is now available in paperback and for the Kindle on Amazon.***
About the Author: My name is Michael and my brand new book entitled "End Times" is now available on Amazon.com.  In addition to my new book I have written six other books that are available on Amazon.com including "7 Year Apocalypse", "Lost Prophecies Of The Future Of America", "The Beginning Of The End", and "Living A Life That Really Matters". (#CommissionsEarned)  When you purchase any of these books you help to support the work that I am doing, and one way that you can really help is by sending copies as gifts to family and friends.  Time is short, and I need help getting these warnings into the hands of as many people as possible.  I have published thousands of articles on The Economic Collapse Blog, End Of The American Dream and The Most Important News, and the articles that I publish on those sites are republished on dozens of other prominent websites all over the globe.  I always freely and happily allow others to republish my articles on their own websites, but I also ask that they include this "About the Author" section with each article.  The material contained in this article is for general information purposes only, and readers should consult licensed professionals before making any legal, business, financial or health decisions.  I encourage you to follow me on social media on Facebook and Twitter, and any way that you can share these articles with others is definitely a great help.  These are such troubled times, and people need hope.  John 3:16 tells us about the hope that God has given us through Jesus Christ: "For God so loved the world, that he gave his only begotten Son, that whosoever believeth in him should not perish, but have everlasting life."  If you have not already done so, I strongly urge you to invite Jesus Christ to be your Lord and Savior today.
The post The Federal Reserve Just Made An Emergency Decision Which Will Fundamentally Change Banking In America Forever appeared first on End Of The American Dream.